This luxury residential project Waterford in Bangalore by Prestige Constructions offers a number of floor plans ranging from 3 and 4 BHK homes.
Master planned over 7 towers, each tower will have basement parking. Space between the towers will be filled with beautiful parks, pedestrian pathways, and ample visitor parking.
The ground floor and the 24 top floors are specifically structured to ensure a sufficient supply of natural light and good weather, as well as offering a spectacular view of the landscape.
The best prestige project Prestige Waterford in Bangalore offers an excellent selection in comfortable living. Each apartment is Vaastu-compliant planned excellently and built according to innovative methods and trends of the future.
Every home is built artistically to bring the residents a luxury living experience. Prestige Waterford is perfectly located and ensures direct connectivity in and around Bangalore to almost every other key point. This is one of the city's most esteemed addresses with convenient access to several prominent schools, shopping centers, hospitals, recreation areas, public gardens, and many other public amenities.
Bangalore
It is a new luxury apartment project located in Bangalore city's biggest location Whitefield, with all the requirements for summarizing as the best place for a residential home. Such a proposed development witnessed both of the extreme measures a wonderful residential ought to possess.
Based on the inherent knowledge of building beautiful apartments in whitefield, Prestige Group residential project has been endowed with all the functionality of modern design and all the latest technology that includes both its architecture and infrastructure.
With the real-time adaptation of certain attributes in each and every stage, such distinctive projects are available in a variety range to meet the needs of the perfect home.
Prestige Waterford has been the most important hotspot in the current market for real estate investments. As a result, everyday property grows leap & bounce. Within the vicinity, civic facilities such as malls, schools, hospitals, and colleges are situated.
Whitefield contains numerous renowned schools and colleges in its heart.
Sri Sathya Sai Higher Medical Sciences Institute
Gopalan International School
Ryan International School
EKYA School
Greenwood High
Global Indian International School
Also, Whitefield is popularly known as Brindavan for the Ashram of Sathya Baba.
Due to the extreme presence of IT hubs and significant business parks Whitefield proves to be a trustworthy place that focuses on providing maximum return on home buyers' investments. With IT development, this place has become an essential and significant part of the city.
Whitefield seems to have been more than just an alternative to the city with leading giants including Wipro, TCS, Dell, and IBM.
There are several large MNCs in India's first IT park, the International Tech Park, which has made Whitefield among the most desirable-after IT employee's locations in Bangalore. Due to its accessibility to the industries and IT hubs, demand for residential spaces for both rent and buy is growing in Whitefield.
The floor plan of apartments ranges from 630 to 2555 Square Feet.
3 Bedrooms (3BHK) – 2060 Square Feet
4 bedrooms (4BHK) – 2525 – 2555 Square Feet.
Master Plan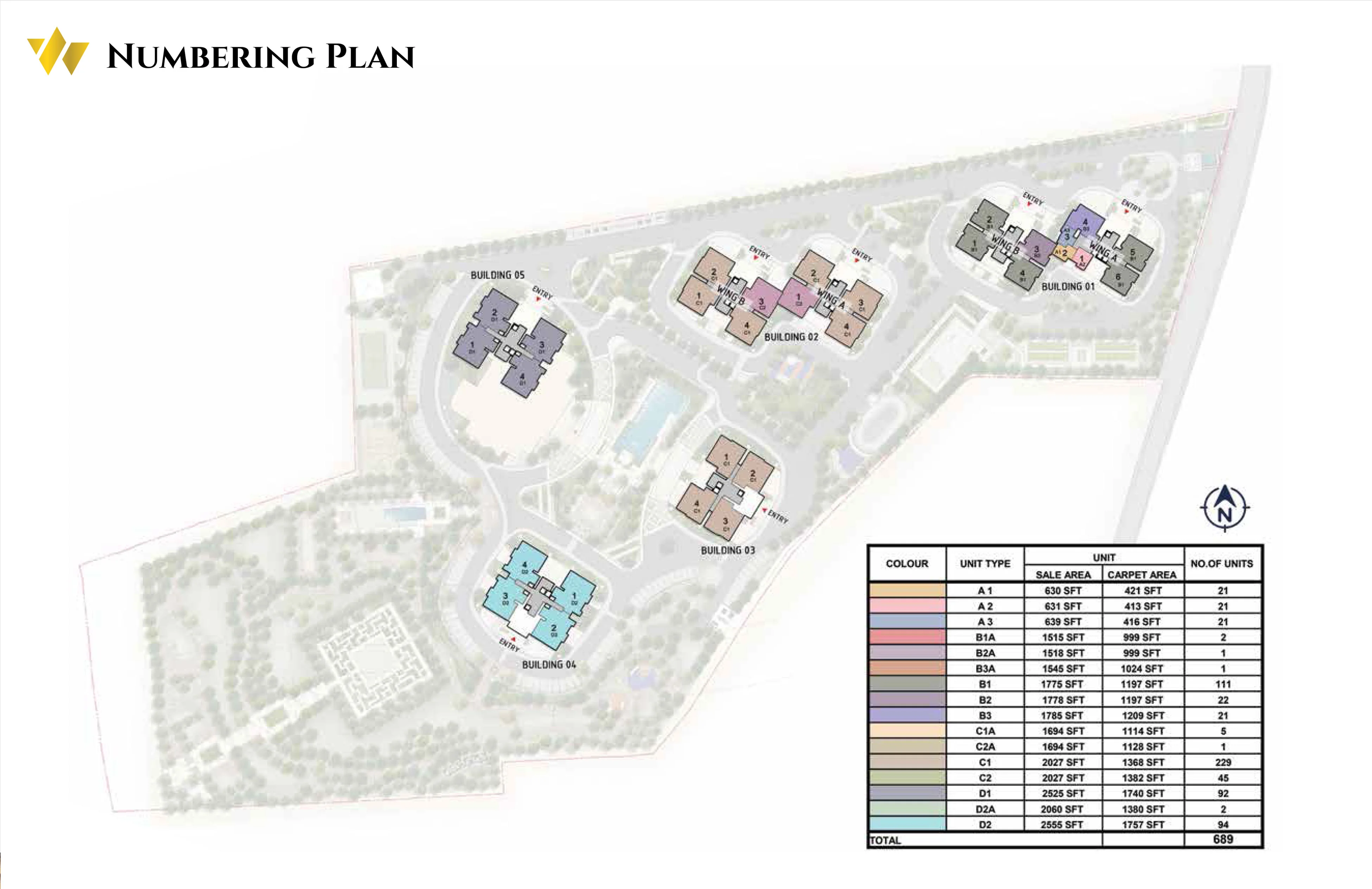 Get to know with Prestige Waterford Master Plan
Prestige Waterford by the renowned builders, Prestige Group, is an upcoming residential project at the Whitefield, Bangalore. The white field is literally known as the IT hub and it is an advantage that the techies in and around this area would be benefitted with Prestige Waterford for sure. The project is being made into a reality in a total area of 16.6 Acres with an open space of 80%. You will surely enjoy a zen mode away from the city chaos. It is built in a lush greenery landscape through the famous architect Mr Tilak Thomas along with structural engineers, Prasad Consultants.
Choose the type of unit
You can enter Prestige Waterford from Main road off Whitefield main road. The entry and the exit gates are different so that there won't any mess up with the vehicles coming and going from and to the apartments respectively. In between the entry and exit gates is the security personnel available to ensure the safety and security of every resident. The whole residential complex is covered by CCTV surveillance round the clock and is controlled by the single master controlling unit. There are 7 towers for Prestige Water residential project. Tower 1 and 2 are situated together with separate entry point A to each tower. Likewise, tower 3 and 4 are situated together with separate entry points. Tower 5,6,7 are situated at a certain distance apart. The accessibility from tower to other is quite easy and are being built with the best quality materials to provide a premium and luxurious feeling to all the residents. The total residential units are 689 that ranges from 3BHK and 4 BHKs. The towers have ground floor plus 23 configurations. In order to match the tastes of every resident, the various types of units spread in the 7 towers include:
Type A1 – 21 units
Type A2 – 21 units
Type A3 – 21 units
Type B1A – 2 units
Type B2A – 1 unit
Type B3A – 1 unit
Type B1 – 111 unit
Type B2 – 22 units
Type B3 – 21 units
Type C1A – 5 units
Type C2A – 1 unit
Type C1 – 229 units
Type C2 – 45 units
Type D1 – 92 units
Type D2A – 2 units
Type D2 – 94 units
Each type of units in the Prestige Waterford masterplan differs in the square feet and the number of bedrooms. Let's have a look at how each type of unit is different from one another. Each type has different sales area and carpet area where the customers can find the best one according to their needs. The sales area of unit types range from 630 sq.ft – 2555 sq.ft and the carpet area ranges from 421 sq.ft – 1757 sq.ft. The residents of Prestige Waterford apartments can joy indoor and outdoor amenities to its core.
Prestige Waterford is an ongoing premium residential development that is situated in Whitefield, East Bangalore. The project provides grandeur and spacious apartments which is a perfect stay for both nuclear and joint families. Master Plan of the project takes us through the exact details about the project. The entrance is east facing with a security desk to monitor the entry to the premise and to provide required information. Right after the entrance as we move forward through the driveway we can notice that the buildings/towers neatly placed in a systematic manner to enjoy the view of landscape and the amenities that the project is going to offer.
Every tower comprises of a basement parking for residents, ground floor and 24 upper floors which are placed carefully to accommodate sufficient natural light, adequate ventilation and enjoy the serene view of the landscape. Between every buildings there is sufficient space for lush greenery and pedestrian paths with dedicated parking space allotted for the visitor parking near each tower. Installation of CCTV cameras in all the common areas, deployment of trained security guards, fire exists, emergency exists and all kind of environment sustainability activities are taken care off to ensure a convenient lifestyle of the residents.
The Clubhouse provides a huge swimming pool, Kid's pool with toilets and changing rooms for the convenience after a water activity. The west side of the property is completely allotted for fitness enthusiasts with outdoor gym, cricket practice pitch, bicycle track, jogging track, Elders Park and kid's play area to ensure that the residential space is not interrupted by the outdoor activities taking place. Separate place is assigned for skating, tennis court, basketball court and various other activities promising the usage of complete premise smartly. Prestige Waterford is definitely going to the most upcoming residential destinations in East Bangalore with modern facilities.
#1: Amenities explained
The project is built in a naturally designed landscape in Whitefield locality with lots of facilities like separate swimming pools for kids and adults, clubhouse, kids play area, senior citizen area, library, creche, banquet halls, walking and jogging track, cricket, sandpits, badminton, basketball courts, cycling lanes etc in order to make the stay comfortable, peaceful and enjoyable.
The clubhouse which is developed in the tower 7 is completely equipped with a gym, swimming pool, health club, indoor badminton courts, party halls, tennis court, multipurpose court, cricket practice pitch, children's play area, bicycle track, joggers park, event lawns with gazebo, convenience store and creche. The amenities which are close to tower 6 and 7 are a tennis court, multi-purpose, court, cricket pitch, gym and jogging track. Swimming pool for the adults and the kids are located quite close and is built at the centre of towers 3,4,5,6 and 7. There are a toilet and dress changing room nearby to the swimming pools. There is a kids play area in the middle of tower 3 and tower 5 and another kid play area is located which is close by to tower 5 and 6. Visitors car parking and elders parking is built near to tower 6. The residents of tower 5 can easily walk towards skating rink as it is nearby. The amenities are placed to give the best moments to the residents while staying and it's for sure the memorable experiences will be innumerable with tranquillity.
#2: Safety and convenience measures
All the towers are equipped with high speed lifts for the passengers and service life for the resident's convenience. Solar water supply and power supply will be provided 24/7 without any interruption. The CCTV cameras fixed at the entry and exit points and every common point makes sure the added safety of the residents. The fellow-beings of Prestige Waterford have the convenience of a filly functional Sewage Treatment Plans (STP) which is built according to rules and regulations. Also, every building has a rainwater harvesting unit (RWH) and the complete surroundings are provided with UV treated and Reverse osmosis treated water. For better safety of the residents, every house is fitted with piped LPG has connections. There are fire safety emergency exits in case of any accidents that are provided according to the norms.
#3: Takeaway
Prestige waterford is an excellent stop solution for your dream home especially for the techies in two Whitefield. The amenities available ensure that the residents enjoy a happy and peaceful lifestyle along with a dip of luxury.